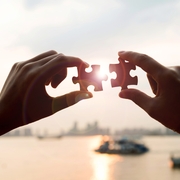 An Integrated Approach to Helping Children
The Behavioral Health Home staff manage your child's health condition.
Cape Atlantic INK has expanded its care management services to include Behavioral Health Home (BHH) services that assist children and adolescents ages 5-21 who have a chronic medical, mental health, or substance abuse challenge.
Our approach to delivering integrated services is to include: parents/guardians, primary, specialty as well as behavioral health, and community supports. We utilize the Child Family Team and Wrap Around practice model to address behavior, medical and wellness needs for the youth to remain in their community. We believe that to Engage + Educate + Empower = Change
The BHH services for a Registered Nurse and Wellness Educator (coach) to join your Child Family Team to address medical and health needs. The Behavioral Health Home staff has the role to educate, encourage, and empower families to sustainably self-manage their family's health conditions.
The following medical conditions meet criteria for BHH services:
Asthma
Hypertension
Diabetes Mellitus
Cystic Fibrosis
Kidney disease
Obesity
Seizure disorder
Substance Use Disorder
Sickle Cell Disease
Eating Disorder
Developmental Disabilities
Cardiac Disorder (requiring the care of a cardiologist at least yearly)
Hypothyroidism
Hyperthyroidism
Polycystic Ovarian
Syndrome
Pre-Diabetes
Autism with GI Concerns (GERD, constipation, diarrhea, IBS)
Chronic Migraines
Roles and Responsibilities of Staff
Registered Nurse
Educates, encourages and empowers
Participates in the development of an Individual Service Plan (ISP)
Coordinates the youth's medical care
Health and Wellness Coach
Educates, encourages and empowers
Participates in the developing an Individual Service Plan (ISP)
Develops wellness strategies with youth and family and embraces their goals
Develops wellness linkage
Care Manager
Educates, encourages and empowers
Facilitates the Child Family Team process
Develops, monitors, implements, and coordinates the Individual Service Plan (ISP)
Will partner with you to develop a sustainable plan to manage your child's health conditions