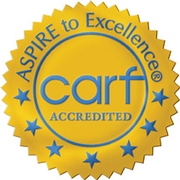 Cape Atlantic Integrated Network for Kids, Inc. (Cape Atlantic I.N.K.) currently holds a Three-Year Accreditation from CARF International in the following:
Case Management/Service Coordination (Children and Adolescents)
Health Home (Children and Adolescents)
Cape Atlantic I.N.K. is committed to delivering high quality services to our persons served. We are equally committed to maintaining a high level of quality standards for business practice. What is CARF accreditation? CARF International is an independent, nonprofit accreditor of health and human services providers in the areas of Aging Services, Behavioral Health, Child and Youth Services, Durable Medical Equipment, Employment and Community Services, Medical Rehabilitation, Opioid Treatment Programs, and Vision Rehabilitation Services.
CARF stated our commitment to our youth, young adults, and their families as,
"The persons served are benefitting greatly from the programming provided. Strong leadership and caring dedicated staff members and teamwork are evident throughout the organization."
Programs and services that are CARF accredited have demonstrated their conformance to internationally recognized standards for service delivery.
What are the benefits of being CARF accredited?
The benefits of conformance to the CARF standards can be realized by both its Persons Served and the Organization.
What does that mean for you?
Persons served and their families look for organizations that are accredited as a sign of quality when looking for services.
Accreditation is evidence to persons served that an organization has demonstrated its commitment to encouraging feedback, continuously improving services, enhancing performance, and managing risk.
Persons served and their families can be confident that services will be focused on their unique needs.
Our accreditation is a public commitment that Cape Atlantic I.N.K. strives to:
Involve persons served and their families in their service planning.
Respect individual cultural preferences.
Be accountable to our funding sources, referral agencies, and the community at large.
Address health and safety concerns, such as building safety and emergency preparedness.
Maintain management practices that are efficient, cost-effective, and based on outcomes and consumer satisfaction.
Additionally, CARF accreditation is a catalyst for continuous quality improvement. CARF surveyors apply a consultative, rather than inspective, approach. They bring with them not only their own wisdom, but also the experience of similar organizations to promote quality within the industry.
When a service or program is CARF accredited, it means it has undergone an in-depth review of its services and demonstrated substantial conformance to the CARF standards during the on-site survey. The service or program has demonstrated its commitment to delivering quality services that focus on your needs and preferences.
For more information about CARF International, the standards, or the survey process, visit www.carf.org.